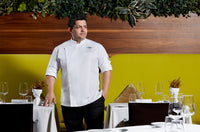 Our Executive Pastry Chef
Embarking on a journey of culinary artistry at a tender age of 14, Chef Kevin Pannier discovered his true passion in the realm of pastries. With an illustrious career spanning over 18 years, his expertise has traversed the continents of Asia, Europe, and the Middle East, enriching his culinary repertoire with diverse flavors and techniques.
Watch our Cakes That Truly Deliver Video
Signature Dishes delivered to you
Savor the essence of culinary excellence effortlessly, as our signature dishes await you with just a simple click.
Order Now